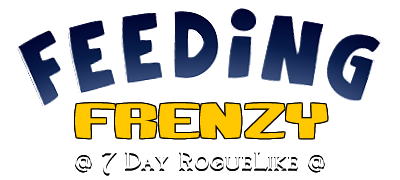 Feeding Frenzy 7DRL
A downloadable game for Windows
Feeding Frenzy is a simple graphical puzzle/strategy rogue-like, created for 7DRL 2015
My top design goals this year were to create a complete, polished game, and to not get too obsessed with it. I met both of those goals, and finished in only 5 days.
Features:
Turn-based strategic play
Simple command set (move or wait)
8 procedural levels
18 kinds of enemies (3 sizes of 6 shapes)
Detailed enemy AI
5 Power-ups
High Score Tracking
In-game instructions
Title screen
Death screen
Victory Screen
Sound
Music
Challenge
FUN!
Developed by

Install instructions
Download, Unzip, Double Click the blue icon called "Feeding Frenzy 7DRL".
ENJOY!